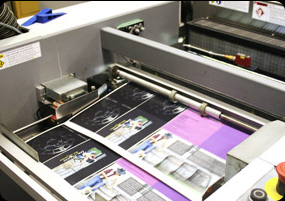 Offset Printing
Kinwood can offer offset print from world's first waterless UV sheet-fed offset press. Complemented by the latest computer-to-plate (CTP) prepress technology and workflow software, our print shop is at the forefront of technology.
We are capable of producing products of various sizes and shapes. Our production capacity allows us to handle even the most complex and high-volume jobs. Our strict quality controls and emphasis on confidentiality and security has allowed us to be a trusted partner for your printing needs.
Kinwood Multimedia, with our recycling program in place, is proud to offer environmentally friendly printing, manufacturing and paper stock.
Inserts & Booklets
Kinwood can offer commercial offset printing for virtually any size, shape, combination or style of insert or booklet you can imagine.
Presentation Folders & Binders
A presentation folder or binder can be a useful tool to communicate a wealth of information if it is presented in an organized package. Not only can Kinwood Multimedia handle all of the printing and materials contained in your presentation we can package, collate, organize and produce the final product! We truly are your one stop shop!
Mailers
Cardboard mailers (or cardboard sleeves) are a great way to reduce packaging bulk and weight from traditional CD & DVD packaging.
Digipaks
Impress your clients with great packaging - Digipak is a great way to go. Digipaks are made with cardboard and a plastic tray to hold the disc.
List of Printing Services
Banners
Blu-ray® Inserts & Packaging
Perfect-bound Books
Booklets
Bookmarks
Brochures
Business Cards
CD/DVD Digipaks
CD/DVD Inserts & Sleeves
Calendars
Catalogs
Envelopes
Greeting Cards
Hangers
Labels
Large Format Posters
Leaflets
Letterhead
Magazines
Manuals
Newsletters
Notepads
Postcards
Posters
Presentation Folders